Wyckoff's Go-To For Finest Pest Control Services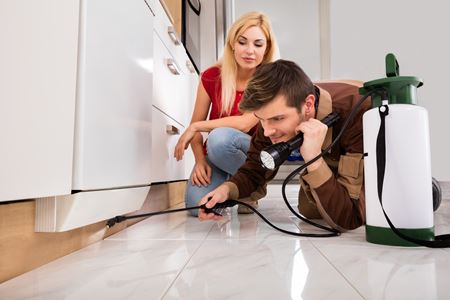 At AMA Pest & Wildlife Control, we understand the frustration and potential danger that can come with a pest infestation in Wyckoff. That's why we offer comprehensive pest control services that are tailored to your specific needs. Our team of experienced technicians uses the latest techniques and equipment to identify and eliminate pests from your home, including ants, rodents, and termites. We take a proactive approach to pest control, working to prevent future infestations by addressing the root causes of the problem. With our regular pest management services, you can have peace of mind knowing that your home is protected from pests year-round. Are you looking for a professional Wyckoff pest control company that can help with all of your pest control needs? If so, give our team of skilled professionals a call today and let us show you the kind of quality results that have helped make us the most trusted name in pest control and termite control the area has to offer.
In Wyckoff, it's not uncommon for homeowners to face termite infestations, which can cause significant damage to the structure of their homes. Our termite control services are designed to eliminate existing termite colonies and prevent future infestations. We use advanced techniques such as liquid treatments, bait stations, and fumigation to ensure that termites are eliminated from your home. With our expertise and commitment to customer satisfaction, you can trust AMA Pest & Wildlife Control to provide you with effective and reliable pest control services in Wyckoff. If you have any questions about our full lineup of quality pest control services, or if you'd like to schedule an appointment for a consultation, give us a call today. Our team of experts is always standing by and would be happy to help.
Effective Pest Control Services by AMA Pest & Wildlife Control
Pest control is an essential service for every homeowner or business owner to protect their property from the harmful effects of pests. Here are some benefits of pest control that you can enjoy by hiring AMA Pest & Wildlife Control:
Prevents health problems: Pests can transmit various diseases that can harm human health. Professional pest control services can eradicate these pests and prevent the spread of illnesses.
Protects property: Pests can cause significant damage to your property, such as chewing through wires, wood, and fabric. Preventing pests with regular pest control services can save you from costly repairs.
Improves comfort: Pests can be a nuisance and make your home or business uncomfortable to be in. Pest control services can remove these pests and make your space more pleasant.
Don't let pests ruin your peace of mind. Contact AMA Pest & Wildlife Control today for effective pest management services.
Reliable Pest Management Solutions in Wyckoff
At AMA Pest & Wildlife Control, we provide effective pest management solutions that are customized to meet the needs of our Wyckoff clients. Our pest management services include thorough inspections, targeted treatments, and ongoing maintenance to prevent future infestations. We use only safe and eco-friendly products to eliminate pests, and our team of trained professionals is equipped with the knowledge and expertise to handle any pest-related issue. Whether you're dealing with a current infestation or want to prevent future problems, our pest management solutions can help. Contact us today to learn more about how we can help you maintain a pest-free environment.
A Full Service Pest and Wildlife Solution
Call Our Bergen County Pest and Animal Control Company Today!